There used to be a post like this but it seems to be long ago forgotten so lets start a new one. Remember only photos of the secrets seers and xars And sure you can have SOME info on them other posts that DONT contain photos of the earlier mentioned figs will be DELETED.
Anyway heres my Seer And S2 secret Skulk.
The dog with the chainsaw is Howl and the green faced buldog is Grok.
Number 15 , un-numbered out of 1000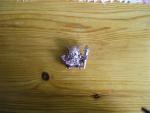 Number 8, numbered 63/300
Edited by Jesse, 30 July 2014 - 12:56 AM.