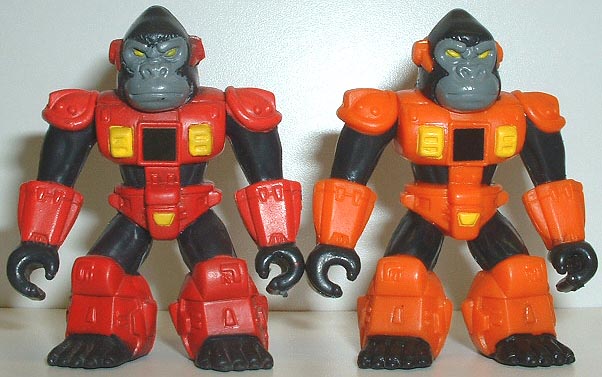 #13: GARGANTUAN GORILLA
Japanese Name: Bunga
Animal Basis:
This one's not particularly tricky to figure out, obviously. Very little shenanigans here- he's one of the types of Gorilla.
-Mankind has long been fascinated with one of their closest relatives, the largest of the Apes and Primates. Gorillas were legendary for their strength and ferocity, though the latter was played up over the years to satisfy gawkers and because there weren't many zoologists back in the day, and most of the time they're rather peaceful. The Silverbacks are prone to aggression when they feel threatened, however, challenging with chest-slaps (with cupped hands, not beating fists like in popular legend- they're strong enough to cause serious damage by punching themselves), false charges, growls and more until they finally lash out.
-Their strength is crazy, though it's never been properly tested, as they're mostly gentle and hard to truly enrage, and they're more trouble to get to the gym than a pack of 4chan posters. Needless to say, they could easily tear the limbs off of a human being, and no animal in the jungle would mess with a big male Silverback. Even the females are about twice as heavy as they look, being comprised of sheer muscle. And those TEETH. It's a good thing they're not normally violent (unlike the Chimps, who as I've stated are bastards)- escaped Gorillas in zoos tend to only leave a handful of bites on people, or rought them up a bit.
Toy Description: The Gorilla is one of the earliest Beasts in the line, and has one of the most eye-popping looks, being black with sharp red armor. He has a very detailed face with an evocative expression- pronounced brow ridges, an indent above the nose, a large flared "gorilla nose", and a broad, expressionless mouth. His whole face is within a "mask" that is a dark grey, instead of the black used for the rest of him. He even sports a sagittal crest- the high point at the top of the head that anchors the huge jaw muscles male gorillas need for chewing on rough vegetation all day long.
The gorilla is as beefy as his namesake, with very long arms, reaching past his knees. He has "muscle" indents on all of his limbs, and even his torso, indicating strength. His feet are completely flat, like a lot of early Beasts, and the copywrite info is printed across his back. Mine has a "B" printed on the back of his right boot. My orange one does too, I think (it's harder to see).
Colors: Four- his body is black, and his armor is red. His face mask is dark grey, and his eyes and secondary colors are yellow.
Armor: A very traditional, typical Beast armor- it's a one-piece, connected at the torso & codpiece. Very blocky and square armor, it has two big rectangular "vents" next to the Chest Symbol in the center, each vent with two rectangular holes. The codpiece has a little yellow trapezoid on the front. The front of the codpiece sticks out quite a ways, and there are little "fins" on the sides. The back of the armor is quite smoothed out and rounded off, with some raised lines on the sides, and tiny vents on the bottom. A pronounced circle and rectangle are the sole large details, aside from the copywrite info (most early Beasts have this info on the back, not the boot), and a pronounced "13".
Contrasting the armor, the shoulder-pads are very rounded, being fitted to the shoulders and barely sticking out. They have "rims" going around them, paired cirlces on each side, and short "fins" that project outwards a bit on top. The wrist guards are very long and squared, but have two raised bits and an indent on each side, and trapezoidal shapes projecting out as "fins", with the wide ends aiming towards the shoulders. The boots are VERY broad, with large projected kneepads with little upside-down "L"-shapes on them, and lots of little raised bits on the outskirts. Oddly, the backs of the boots appear to be fitting on top of the more tight-fitting front parts.
The gorilla also has a small headpiece, with circular ear-protectors being connected by a strap going around the back of his head, and triangles pointing towards his mouth.
Weapon: A very long, bronze polearm, with a long haft ending in a large, spade-shaped blade. It's very asymmetrical, with a very large, curved end sticking down past where the hand grips it, while the other end just has a tiny "swoop" upwards, while the whole thing comes to a point. There are three little divot lines on each side. A big "13" is on one end.
Hands & Feet: Big "mitten" hands with thumbnails and some kind of indent along the fingertips, resembling one large nail. Five-toed feet (with a sorta-thumb that's shorter than the other four toes on the inside), ending in a longer heel.
Easily-Broken Bits: None, though there is almost ALWAYS weathering on the tiny layer of paint on the facemask.
Had it as a Kid: Nope- though oddly, I had his weapon. Because I never owned him, this early-release Beast remains one of the more eye-catching ones to me.
Variants: One of the most pronounced in the entire line, there is a variant that's actually made of ORANGE PLASTIC, and has all of the black skin painted on (this becomes obvious looking at the feet, which typically aren't painted as carefully and have black covering parts of the armor). This orange armor comes with a much darker yellow Secondary Color. Like the Tortoise, this orange plastic is much more rubbery and mobile than the other colors.
Overall Score: 8.5/10 (maybe because I never owned him as a kid, but I always found him to be really cool-looking)