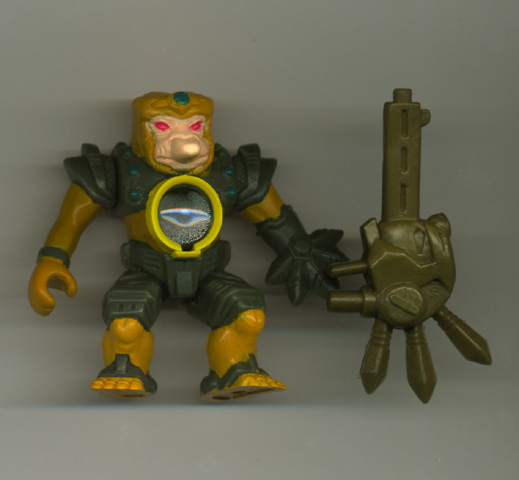 #104: JEERER MONKEY
Animal Basis:
-The fat nose of this guy indicates that he is a Proboscis Monkey, famous for such a feature. Called "Dutch Monkeys" by the natives of Indonesia (who thought the Dutch colonists had fat bellies and huge noses, just like these guys), they are the largest monkey species endemic to Asia. The famous nose is known mostly to the males (as a sign of virility), who are also twice the size of females. One male rules a group of many females, as is usual for primates, with the rest being all-male groups. Proboscis Monkeys hail from the three nations of Borneo- Indonesia, Brunei & Malaysia, mostly sticking to rivers- making it among the most aquatic of primates.
Toy Description: Hahaha, oh GEEZ, this is a monstrosity. One of the two ugliest Laser Beasts, Jeerer Monkey is the cheapest of the "late release" LBs, owing to... well, he's UGLY. Like, LOOK AT THIS! Big, wide head. Dumb expression. Super-phallic bulbous nose. A hand that looks like... whatever the hell that thing is. The weird mustard yellow color scheme. It's almost impossibly bad, especially for a line that usually excelled so much. Even the detailed armor can't save it! Like... he's wearing SHORTS! And what the hell is with his hand? What IS that?
His face is at least a little detailed- a pronounced, long mouth, with a nose that juts out straight forward and is quite rounded and bulbous. There are some wrinkles at the side of his mouth, and the fur on the top of his head appears to have raised portions near the top of his face.
Colors: Six. His fur is a dull, mustard yellow, and he has a pink face. His eyes are red, while his armor is dark brown with dark green highlights. And, unusually, he has a SIXTH color- a yellow rim around his Chest Marble! So there IS another guy with six colors in the line!
Armor: Jeerer Monkey has a somewhat detailed set of dark brown armor, sitting in two pieces. The chest sports a trio of small green lights on each side, surrounded by raised edges. His shoulder pads are two-tiered, with very squared-off levels. His codpiece is very boxy, with three vents on each side of a rectangular piece over the crotch. Unusually, he has "shorts"- boxy and sporting vents on the front and raised "rims" going around the bottoms. His feet wear little "anklets" consisting of a single wireframe with little rectangular boxes up front. His right arm has a tiny little wristband, while his "Weird Hand" has a very long wristguard, a joint/notch in the center, and four unusual phalanges sticking out in a splayed-out fashion- these are segmented and come to points. There is also a little green light on the top of his head.
Weapon: His gun is a golden, humanesque head with three spikes on the back (resembling his Weird Hand's phalanges), and a gun oddly sticking out of the front of its face. It's very weird.
Hands & Feet: One small mitten hand, and one odd piece of metal that looks like an alien, mechanical "hand", albeit with fingers of equal size. His feet leave all four toes (complete with blunt nails) exposed.
Easily-Broken Bits: Probably the wings. Good like keeping the paint on the tips of his knees, too.
Do I Have One?: Nope.
Overall Score: 4/10 (very detailed armor, but REALLY ugly and with a "WTF?" inexplicable weird hand)
Edited by Jabroniville, 11 June 2019 - 11:28 PM.