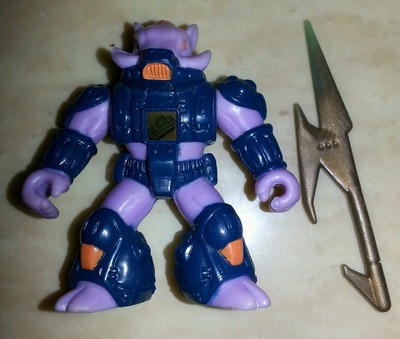 #14: SWINY BOAR
Japanese Name: Wild Thunder
Animal Basis:
-Swiny Boar is pretty obviously meant to be a kind of Wild Boar, though the exact species isn't easy to suss out, given that he's, well, PINK. Wild Boars are among the largest of all pigs, and hybrids between them and feral pig populations can grow to morbidly obese 800-lb. specimens that defy description and provide fat rednecks with tons of "Kill poses" on Google Image Search. They're big and goofy-looking, but make no mistake- they can be extremely dangerous, and full grown males have been known to gore TIGERS to death in self-defense. It's a big fat monster that can dish out some damage, but is rather easily victimized by serious predators (who make regular meals out of them- many large predators using them as a staple food source).
-The Pig Family is full of big, fat, ugly creatures prone to people joking about them, but several of them are nasty fighters, and they're an impressively-adaptable group of critters. They can eat just about anything, but aren't nearly as gluttonous as the media would have you believe. Pigs aren't as varied as many other Families, all containing tusks and big, flat noses, but their sizes vary greatly, and some have very odd features. Pygmy Hogs are only 22 lbs., but feral Boars can weigh in excess of 1,000 lbs. The Babirusa is easily the weirdest- this 220-lb. pig only exists in some Southeast Asian Islands, and has tusks that grow up THROUGH the top of it's muzzle! For some reason, despite their famous ugliness, their piglets are nearly always disgustingly cute, being striped AND spotted in addition to being tiny. SOOOOO CUTE!
-Pigs are famously-filthy animals, rolling around in the dirt and mud, though some species are rather clean (and they rarely crap in their own sleeping areas)- Pig Farms, where they are concentrated in their THOUSANDS, are extremely smelly and deemed an infamous public nuisance in surrounding areas. This lack of cleanliness led to both Judaism and Islam banning eating of the animals as "unclean", though Islam practices this a lot more intensely- Pigs are just in the many "non-kosher" animals in Judaism. Despite generally being portrayed as doofuses in the media, pigs are VERY intelligent animals, showing significantly more smarts than dogs. Their high fat content and intelligence are often given as reasons not to eat them, but... BACON!! How can you turn down BACON?!?
-Pot-Bellied Pigs were a major Fad Pet of the 1990s, and an iconic example of what can go wrong when there's a "Fad Pet". The pigs, while adorable as babies, can grow to tip the scales at 300 lbs., making them poor housepets. As such, many pigs were abandoned by their owners, creating an Animal Rescue problem. The same thing happens with various Dog Breeds over the years, particularly when a big new movie (101 Dalmatians, Beethoven) comes out, making kids want puppies that soon grow into ill-suited pets.
-The pig's fearlessness is admired in some cultures, but they're also generally known for being quite stupid and impetuous, given their violent tempers. I just remember that scene in the first episode of Roots, where Kunta Kinte declares admiration for the brave Pig, willing to fight to the death, over the cowardly, fleeing Leopard... but his mentor carefully reminds him that the Leopard SURVIVES attacks, while the Boar always dies.
Danger to Humans: Pretty big, actually, given the size and ferocity of some creatures. They're not as quick, though, and make for big targets, and so are pretty easy to kill if you have a good weapon. There's a scene in The Wizard of Oz when everybody panics because Dorothy clumsily-fell into the hog pen while screwing around- this may look a bit odd to modern eyes, but apparently it used to be QUITE a thing that children would get trampled and/or attacked by the omnivorous swine. Pigs kill about as many people each year as sharks do, though of course their numbers and proximity add to that- recently, a 70-year old man fell into his hog pen and was almost completely-devoured.
Toy Description: Swiny Boar is one I've little familiarity with, never having had it as a kid (despite that, he's a relatively-early number). I ended up spending what was in retrospect way too much for it at a Convention show a year ago too, but c'est la vie. He's an unusual scheme- purple/blue, and the orange secondary color just makes him look more odd. Though I can't say I find the pastel purple very compelling. His gas mask look gives him a menacing air, as do the tusks. His "14" is written on the back of his right thigh. He's also one of very few Beasts with distinctive hair- it's colored orange (like his eyes), and goes all the way to the base of his neck.
Colors: Three. His body is a sickly, pastel purple. His armor is a dark blue, and his secondary color is a dark orange- you'll find it on his hair, eyes, below his kneepads, and on the filter for his gas mask.
Armor: Pretty plain, and quite rounded. Standard one-piece set-up, oddly with zero extra colors on the torso or codpiece whatsoever. The only colorful bits are on his mask (which covers his entire mouth save the tusks, and is connected to his armor by the back).
Weapon: A dark golden pointy-thing- it resembles a large spear with an extra spiky bit sticking off to the side. Three circles are indented onto each side.
Hands & Feet: Mitten hands, and two-toed, cloven hooves.
Easily-Broken Bits: None.
Had it as a Kid: Nope. I spent like $25-35 on him at a Calgary Comic Expo one year- way too much, in retrospect.
Variants: None known.
Overall Score: 6.5/10 (not bad, but not great. The mask is pretty cool, at least)