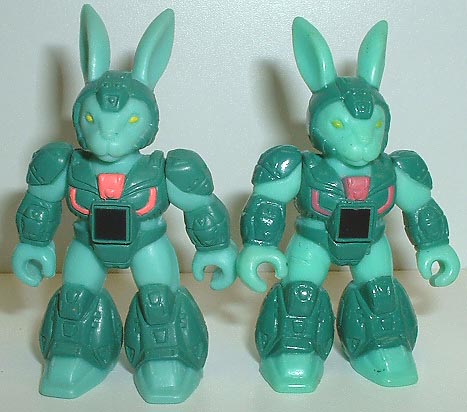 #22: HARE RAZING RABBIT
Japanese Name: Rabbit Kid
Animal Basis:
-Hare-Raising Rabbit could be nearly any variety of lagomorph. Likely a domestic rabbit, however.
-Lagomorphs are highly-similar to Rodents in numerous ways, especially the small size and their teeth (the two share common ancestors). Famous for their ability to breed with great rapidity, their speed, and their ears, this Order is common throughout most of the world. Rabbits & Hares are still hunted heavily for their meat, but their ability to procreate is so staggering that many of the species are still at the level of "Urban Pests"- here in Edmonton, you'll see a rabbit just about every day. The Order isn't very diverse, and most of the animals look the same.
-The differences between Rabbits & Hares are pretty minor- Rabbit bunnies are born blind and hairless, whereas Hares give birth to sighted, furred children. Hares are generally larger, thinner and more athletic. Hares have not been domesticated, nor do they gather in groups and burrow underground. There's also the Pika family, with their much shorter ears, and tinier size (none weigh more than a pound).
-Rabbits are popular animals, owing to cuteness and the ears and junk- easily-recognizable, they make an ideal animal for cartoons- Walt Disney's first creation, Oswald the Lucky Rabbit, was a huge hit (when he was fired from the animation company that produced the cartoons, he simply swapped the rabbit ears with mouse ones to make Mickey Mouse), and Bugs Bunny took inspiration from him. We would also see Roger Rabbit, The March Hare, and of course Watership Down, a very dark, bloody picture that features the kind of stuff that you'd only show to children if you wanted to SCARE THEM OUT OF THEIR FREAKING MINDS, FOREVER.
Toy Description: The earliest of the Battle Beasts that I myself did not own, and was thus fascinated by. Hare-Raising Rabbit (dig that punny name) has a lot of "typical" traits of the line, but also shares some unique bits here and there. He's got the same kind of armor most characters do, but a MUCH larger helmet, projecting ears, he's got four colors (instead of the typical- especially at that point- three), and his armor is just a slightly darker color than his skin. And he's even got a TAIL! All in all, he's a quality toy, though as he's an early one, looks somewhat "plain" at points. The aforementioned thing with his skin & armor being so similar doesn't help.
There's a "22" on the back of his helmet, and the copywrite info is printed on a large rectangle on his back, like most "early" Beasts.
The Rabbit is quite tall and thin for a Battle Beast, and has very rounded armor- almost nothing has a sharp angle on his design. His rabbit-like face is recognizable, and the ears are a dead giveaway- there's no mistaking his species. He even has a little tail- one of the only ones in the line! It's actually rather mechanical-looking, however- short and blunt, like a little sparkplug. Even his feet are mechanical, being very flat and having sharp angles.
Colors: Four- his skin is a light turqouise, and his armor is a darker shade of the same color. His eyes are bright yellow, and his Secondary Color is very bright pink.
Armor: A standard one-piece, built quite typically, albeit much more-rounded than normal. The smooth lines result in wrist-guards and boots that "bulge" in the middle and thin out at the joints- his shoulder-pads are basically cup-shaped, and hang so low as to almost meet the wrist-guards. His Chest Symbol is rather low (not quite on the belly), with two pink, crooked lines beside it. Another pink object- a box that projects out a bit, sits above the Symbol, astride some organic-looking line details in the armor. He's also packing a lot of circles, rectangles & triangles etched into his armor. He's one of the only Beasts to wear a complete helmet- with chin straps going all the way to his muzzle, and covering the entire back of his head- it actually looks a lot like Mega Man's helmet, right down to the projected forehead bit. It simply has holes for his giant ears to poke through.
Weapon: A very long, dark-grey polearm- a double-ended staff with large "wedge" shapes of trapezoidal make. There's a relief on one end, with three little lines etched in on each side, while the other end is slightly smaller.
Hands & Feet: Mitten-like hands, with toeless, mechanical-looking feet.
Easily-Broken Bits: His giant ears are just asking to be damaged, though they're thick enough that you're unlikely to see one with the whole thing torn completely off. Just a lot of surface damage, especially at the edges.
Had it as a Kid: Nope, though I was quite familiar with him, as my friend Paul had one, and I'm sure I saw others. Oddly, I was never jealous of him like I was of the Flamingo- even back then, I think I could tell that he was pretty "generic".
Variants: I was gonna say none, but there is actually a very rare (to me, anyways) "short-eared rabbit" that is apparently a whole different kind of mold, as he's shrimpier than the regular Rabbit. This is usually only noticeable when the two are next to each other- I certainly can't tell just from looking at a figure.
Overall Rating: 7/10 (decent-looking, but a bit plain)
Edited by Jabroniville, 17 January 2018 - 12:27 AM.