Hey, guys, I was thinking that with the popularity of the "Toy Identification" forum, we might want to consider using a simple standard format for thread titles. This would make browsing and searching this forum for particular (old) threads more efficient. I'm thinking something like this:
Topic Title
: General shape, size, color
Topic Description
: Trade markings
Example:
Topic Title
: SD Robot, 1.5", Orange
Topic Description
: Dokzgey (X) 1983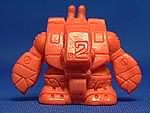 If you've got multiple items, maybe just list all the general shapes like so: SD Robot, Red Ghost, Vegetable Monster, & Butt Cheeks w/ Legs.
At the very least, anything would be better than "Please help identify these." (And I don't mean that in a nasty way. I'm being serious.

) The idea is that something in the title will jar one's memory without them having to open the thread or it will be an easily searchable key-word.
Edited by Soupie, 23 March 2009 - 01:45 PM.