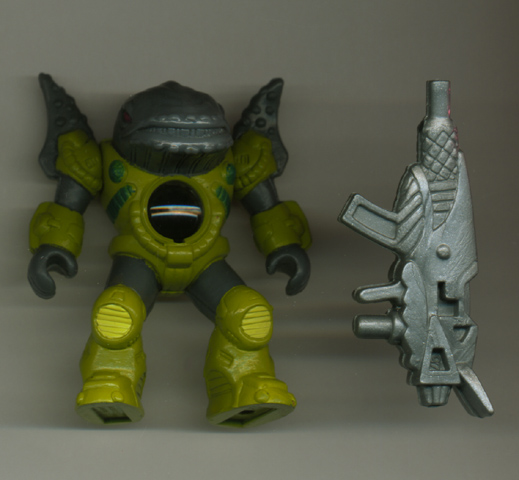 #97: SEA PANIC
Animal Basis:
-The barnacles on his "flippers", the shape of his head, and more mark this guy as what's likely a Humpback Whale. Bowheads and Right Whales have taller, narrower heads, the larger baleen whales aren't as barnacle-y, and he doesn't look right for a Grey Whale either.
-These famous jumpers are pretty sweet, and the iconic "breaching" whale of the world. Their titanic leaps allow them to go clear of the water (no small feat when you weight thirty frickin' tons), and some have even jumped constantly for over an hour! As a Baleen Whale, it's no butt-kicker despite it's size, but they have some brilliant hunting mehtods- forming "Bubble Nets" or other shapes from blown air bubbles, trapping terrified fish in these circles while their allies scoop up the helpless tiny animals. Yes, a thirty-ton animal that uses teamwork and tools to kill. It's all for the best that they only eat small things, using their baleen tooth-plates to filter in small curstaceans, fish, and other life.
Toy Description: With a narwhal being used for #95, it's fitting that we actually get an authentic baleen whale in the Beasts line, and all the better that they did a heck of a job with it. Making a bipedal WHALE is no easy task, given now non-ambulatory these things are on land- you have to get the head shape right or it looks REALLY weird- too big and its silly and immobile, and too small and it looks like he's got a weird tiny, long head. This is kind of a happy medium. A very long, broad head fits that of most of the filter-feeders, with notches in the lips and ridges under the mouth marking the expandable filtration system in the creature's mouth. Tiny eyes sit at each side of the mouth, which has tiny lines indicating baleen plates in it. There's even a tiny little "hump" fin on top of its head. Also sporting fin-mimicking "shoulder blades" atop the shoulder-pads, he's both immediately obvious as a whale and very distinctive in the line. I like the color scheme- yellow is an odd look on some Beasts, but with such a large base creature, even this mustard yellow works- too flashy a color and you distract from the "money", which is that giant head. All in all, he just stands out so much that I can't help but give him a great rating.
Colors: Five. His skin is dark grey, and his eyes are red. The armor is mustard-yellow, while the secondary color is a bright green. Oddly, the vents on his knees are ANOTHER different color- a bright, shiny yellow.
Armor: Sea Panic has an odd Chest Marble rim, in that it's itself rimmed by two large, rounded tubes connected underneath the center. Beside these are two long, diagonal green lines with notches in them, travelling towards the hips. Above those are round bits with notches in them. His shoulder pads are sort of small, but feature very tall "plugs" on top, with tubes connecting them to the armpits- on the back or "inserted" into these are two "flukes"- whale flippers that are pointed like shark's fin, and sport organic-looking "barnacles" on them in various rounded shapes. The wrist-guards are rounded and have raised rounded things on the outside front, and notches and boxes scattered around. His kneepads are very distinctive, in that they are cylindrical, but end in large, bright yellow vents, making them really "pop". The boots are fairly standard-shaped, with notches on the sides, plain fronts, round circles surrounding the "toes", and a front part that's extended forwards a bit.
Weapon: A silver gun shaped like a giant whale, with the gun tip sticking out of the mouth. You can see baleen plates and folds in the mouth beneath that. The gun tip comes out of a part that's cross-hatched like a pineapple.
Hands & Feet: Plain "mitten" hands.
Easily-Broken Bits: None, but paintwear is pretty easy to get on yellow paint over a dark color.
Do I Have One?: Nope.
Overall Score: 9.5/10 (one of the best in the line)