-BA- Beastformers Archeology Topic
ALL the Chariots and Playsets within the Battle Beasts and Laser Beasts lines were designed by the design department of HASBRO.
This also goes for the 3 Battle Beasts Chariots which we know as; Battling Deer Stalker, Battling Tearn´ Tiger, Battling Big Horn.
We´re slowly approaching the final topics within the 2nd Subject of the Beastformers Archeology project named Prototypes & Blueprints and so far we´ve shared quite some interesting info and pics related to this topic but now we have some of the original Prototypes to share with you. All came from a former Hasbro employee like other items previously discussed in other topics. Since those have been saved its good to give them some extra attention. In 2007, when these were acquired, they´ve been first discussed and shared here so it was about time to blow of some dust and make them part of the BA Project.
First of all a big thanks to Dabbuu for sharing info and pics ones these interesting prototypes!
The opening of this topic directly holds a crucial line because not a lot of collectors actually know or realise that not TAKARA who has been completely responsible for the design of ALL the figures and weapons was responsible for the Chariots and Playsets but HASBRO made these. This is an important distinction for those who´ve always wondered why the figures and vehicles have a different feel/atmosphere around them as if they don´t really feel as if they belong to one and the same line.
There are a few things we know about these prototypes which have been clarified in time such as;
- The material these prototypes are made of is a kind of resin unlike the produced Chariots as we know them being made from Plastic.
- Although these were prototypes they were fully functional meaning they have a full working pullback motion similar to the produced ones.
- Unlike the produced ones there are no trademarks or whatsoever on the bottom of these Chariots.
- Design is obviously based upon 3 Serie 1 Battle Beasts figures; #2 Deer Stalker, #3 Ferocious Tiger and #26 Bighorn Sheep.
- Some of these prototypes are slightly different than the actuall produced ones but these differences will be discussed below for each Chariot individual.
- All Stickers shown on these prototypes are handdrawn artwork.
BUT
There are also a lot of questions unanswered in general when it comes to these 3 BB Chariots;
- Where the 3 color ways (Orange (Fire), Blue (Water), Green (Wood (?)) initially intended to represent the known Battle Beasts Symbols Fire, Water and Wood like the Playsets and if so why did they choose for the Sheep representing Water?
- If we take a closer look at the front of all three of the prototype Chariots pictured below it is clear that all of them show a square on their head, almost similar to the square all BB figure have on their chest where the rubsign is place, was this intended to hold a symbol as well!?
- Based on our research so far (Line Art Kit 1986) it is clear that HASBRO initially only had the design for the first 18 Beasts available so from this perspective it is a little strange to see the design of the Battling Big Horn show up as this is clearly based upon figure #26 Bighorn Sheep, this is for sure a clue to keep in mind while placing actuall releases and design periods in chronological order since this means those designs can´t be made during the first period.
With this knowledge and these thoughts to think over let´s take a look into each of the 3 Chariots one by one:
Battling Deer Stalker

Deer.jpg 49.04K 19 downloads

Deer1.jpg 79.44K 21 downloads

Deer2.jpg 61.34K 16 downloads

Deer3.jpg 44.3K 12 downloads

Deer4.jpg 56.47K 10 downloads

Deer5.jpg 50.86K 11 downloads

Deer6.jpg 55.52K 14 downloads

Deer7.jpg 73.31K 12 downloads

Deer8.jpg 59.25K 10 downloads

Deer9.jpg 48.5K 15 downloads
Looking at the Deer BB Chariot there´s a few things that jump into the eye knowing what the actual produced version looks like.
Some minor details have been changed, the biggest change is visible on the back side, and as we´ve seen before on the original BB Sculpts Topic some details have been softenend. This mainly goes for the Horns but from this perspective it is interesting to see that those scissor like things on the end of the left and right drills have made it into the actuall produced item since it looks like even for this prototype one side missed these.
Battling Tearn´ Tiger

Tiger.jpg 47.93K 12 downloads

Tiger1.jpg 61.81K 14 downloads

Tiger2.jpg 55.36K 6 downloads

Tiger3.jpg 50.97K 5 downloads

Tiger4.jpg 53.12K 5 downloads

Tiger5.jpg 51.83K 5 downloads
From all three BB Chariots discussed here it looks like the Tiger needed the least fine tunning in the details because apart from the little square on its head that dissapeared in the actuall produced one, same goes for the other two by the way, there´s not a lot more to mention.
Battling Big Horn

Bighorn.jpg 50.08K 7 downloads

Bighorn1.jpg 54.14K 10 downloads

Bighorn2.jpg 58.71K 6 downloads

Bighorn3.jpg 53.85K 5 downloads

Bighorn4.jpg 65.78K 6 downloads

Bighorn5.jpg 66.59K 2 downloads

Bighorn6.jpg 38.96K 1 downloads

Bighorn7.jpg 58.3K 3 downloads

Bighorn8.jpg 56.34K 3 downloads

Bighorn9.jpg 45.88K 4 downloads
From an esthetical point of view the Bighorn Chariot has had to deal with the biggest ´downgrade´ when we compare this prototype to the actuall produced one. But that is probably caused by the impressive gold looking horns which seem to stand out less obvious compared to this prototype. Apart from this big difference the only direct difference is seen on the guns on the head of the prototype which are slightly different than we know them, the rest of the differences is found in some of the small detailling.
After the final design by Hasbro, most likely with the full approval of Takara, these 3 Chariots have been further produced MADE IN TAIWAN and are dated with 1987 which might be the answer for the question that raised above regarding the fact that the Bighorn Sheep design was used. Obviously this figure was designed by Takara at the moment Hasbro started designing these Chariots so this was at a later moment in time and had nothing to do with the initial Line Art Kit that was handed over to Hasbro by Takara in 1986.
It is great to see that prototypes like these are still around and even ended up in our own community because I don´t think a lot of actuall prototypes of other Toylines did make it outside the factory....
As always please contribute to this topic with all info you might have regarding these Chariots or in case you migth notice any strange details or differences that have been left undiscussed. Please stay on topic because further prototypes regarding the Playsets and the LB Chariots will get their own topic later on.
More Battle Beasts History, in the form of other prototypes, is to be revealed soon!
UPDATE:
- The resin used to cast these Chariots was completely clear so they completely painted them in color as shown on the pics above.
- We´ve to correct the link towards the HASBRO 1987 Catalog (US) below by Dabbuu because after a closer inspection of the pictures the chariots used in that catalogue can´t be the prototypes from above since there are some important differences. First of all the ones in the catalog seem to be more smooth (and not painted), the ears of the Tiger and Deer are different in color but the most important details is the different color of the wheels of the Deer chariot since in the catalogue they are Orange instead of the Black that can be seen on the prototype photo´s above. So most likely the ones used in the catalogue are an updated/improved version of the prototypes shown here.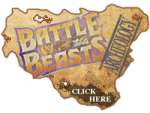 CLICK HERE
to go to the Table of Content page
Edited by Beastformers, 25 September 2014 - 08:16 AM.