After work tonight I ran by a local comic shop. They have D&D and such on Fridays so they are open late. On my way out I saw an unfamiliar package on the shelf. Handful of Heroes! I was quite surprised, as I have a preorder in for some and was told mid-August at the earliest. so, with preliminaries out of the way, here is my review.
Handful of Heroes
by Hasbro
First off, I have to admit I am biased towards the format. I assume if you are reading this, you too are a wee bit biased towards small flexible men.
The figures come packed on a blister card, 8 to a pack. 7 figures are visible, one is hidden. Like the marvel universe 3.75 line, the package tends to get beat up fairly easily. Both packs I bought had significant wear and tear, yet had been freshly pulled from a case. I don't really care about that sort of thing as I am a dedicated package opener, but if you like to keep stuff moc, you may have to be careful. Each pack comes with a 10"x14" checklist / poster.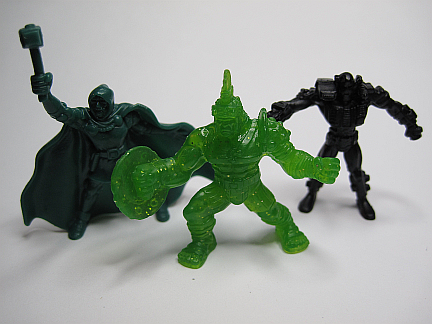 Dr. Doom, Gladiator Hulk, War Machine
The Figures themselves are quite beautiful. They average about 1.5"/1.75" and are very well sculpted. They are nicely detailed, and more importantly, rather dynamic. The larger figures seem the most satisfying to me in terms of feel/heft. The more "human" shaped figures feel a bit slight. They look proportionate, but for those of us used to the thick anatomy of the average LRG they feel smaller than they are.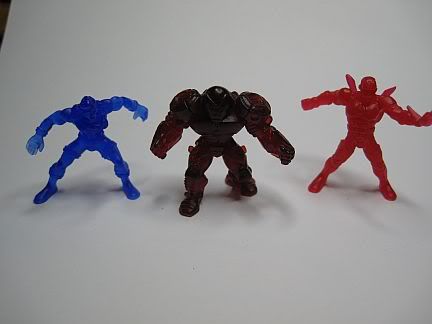 Cyclops, Hulkbuster Iron Man, Iron man
Close up, Hulkbuster
In both sets I bought tonight, the hidden figure was Hulkbuster Iron Man in a clear blood red color. I don't yet know if this was random chance, or if he is always there. Chance seems more likely, as having a flock of the same figure as a bonus would pretty much suck, but you never really know with the big toy companies. The figures are made of a fairly stiff pvc. Pretty much the same stuff most action figures are made of these days. I would have liked them to be a bit more rubbery, but it would likely result in warped, unstable figures considering the thin legs some of these guys have.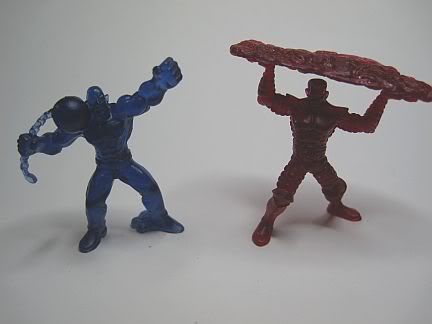 Absorbing man, Colossus
Although the package quite loudly touts "collect all 120 figures!", there are actually only 40 characters in the set. Each figure comes in 3 colors. However there are more than three colors, so you apparently can't put together complete matching color sets. The basic colors are: yellow, blue, green, red and black. Each color group consists of solid, clear and clear with glitter. The only exception seems to be the deep blood red color. It appears to only come in clear.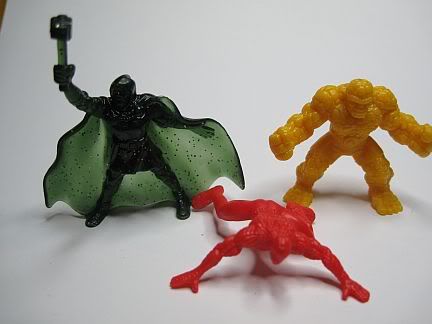 Dr. Doom, Spider Man, Thing
The solid colors are by far my favorite. They are very matte, and showcase the figure's details quite well. The clear colors ,as is so often the case, obscure the fine sculpting. I do however like the Kinkeshi connection with the glitter plastic.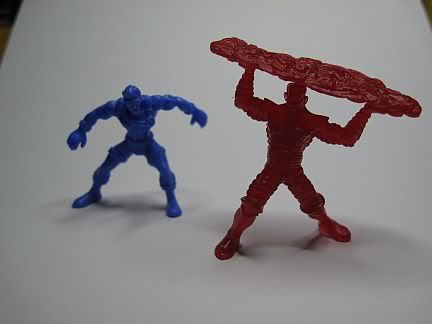 Cyclops, Collossus
For the most part I like the figures selected for the first wave. It's a nice cross section of the Marvel universe with definite emphasis on current hot properties. the bulk of the 40 figures consist of Hulk (10 figs), Iron Man (6), Spider man (6), and x-men (12) related characters. The final 6 figures consist of characters who are for the most part Avengers related.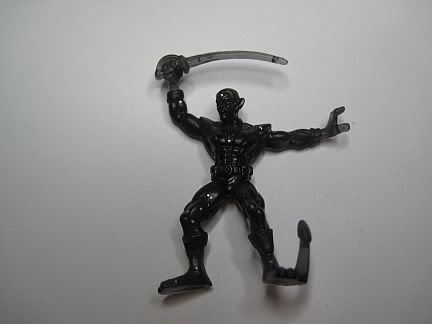 Nightcrawler
Although my 2 pack sample is far to small to draw any sweeping conclusions from, I only got 2 true doubles. One being the earlier mentioned Hulkbuster Iron Man, and a clear blue Absorbing Man. Those odds seem pretty good to me. I have seen many far less "random" distros.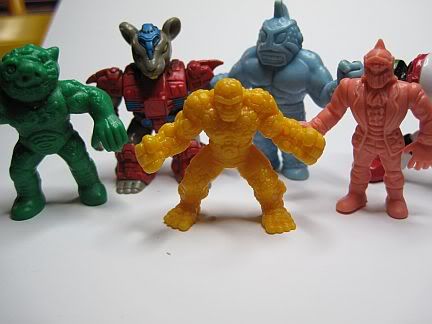 Thing and friends
Overall I'd have to say these are great figures. There are a little pricey at about $7 dollars and change per pack, but you can order them online from the place I just bought mine for $6.75 (scifigenre.com). I haven't really checked other retailers as I had a case preordered somewhere else, and was pretty surprised to find these guys tonight. They are a great fit for any LRG collection.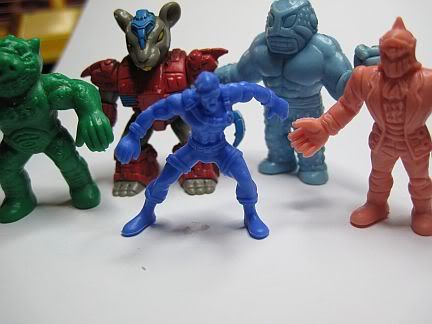 Cyclops and friends