Hi all!
I wanted to give you a quick update on the latest news.
We have just sent off payment for the metal injection molds for the first two figures in the line.
In regards to the factory, this is a solid factory with an excellent reputation in our collector group, for putting out top quality figures. It is actually the factory that we would have loved to work with initially. Needless to say, we are extremely excited!!!
In regards to the figures, we are going to be leading off with the Rhino and the Scorpion. The Lion, Ape and other figures will come in later releases. Another major change is that instead of only having articulation at the shoulders, these will have 4 points. Neck, waist and shoulders. Some characters may have an additional joint. For example, the tail on the scorpion is articulated at the base. Note: These figures will scale in at around 60mm tall.
Here are some resin prototypes that we had cast up and black-washed (thanks to Luke at imperfecz).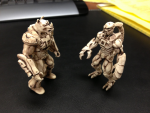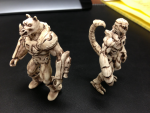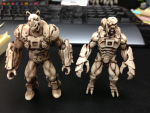 We should see some test shots in the next 8-10 weeks and will post more then.
A HUGE THANK YOU to all of you who have believed in this project from the start. There have been a ton of snags these last two years but we are now within a few months of having this dream become reality. You all ROCK!!!